Dear friends and supporters,
It is no secret that Deutsche Post DHL in Germany has been actively supporting us for many years. Current and former employees are among our supporters and members. The DHL Living Responsibilty Fund has shown that they value our work, by repeatedly awarding us with funding for a number of initiatives. Among other things, this enabled us to carry out the renovation of the sanitary facilities at our school in 2019, which is turning out to be even more important under the current circumstances (keyword: washing hands). On top of that, we are given the opportunity to advertise for our projects and collect donations via a Kidshelp booth at the Deutsche Post DHL Christmas market in the Posttower in Bonn and other charity events, such as the annual Nikolaus cake sale at ITServices in Bonn.
As we always had and continue to have good experiences with the head office in Germany, we also established contact with DHL Express Cambodia several years ago. Ever since then, we enjoy the cooperation with the local branch of DHL Express as much as we enjoy working with the head office.
But how does this cooperation actually look like? In addition to irregular initiatives, such as the organization of an open day for our university scholarship holders at the company headquarters and several donations of IT equipment for the school and our students, DHL Express Cambodia provides our students with opportunities to intern with them. We are particularly pleased that multiple Kidshelp scholarship holders have already successfully completed these internships. DHL Express Cambodia has always been very flexible with respect to the schedules of our students and now even offers part-time positions. The latter are very important for our scholarship holders, as study hours for most subjects are not compatible with full-time work.
Roth Boutros, one of our scholarship holders, has been working as a Data Entry Officer for DHL Express in Phnom Penh for two years in addition to his studies. He is studying tourism for the third of four years and should now ideally be looking for his first job in this industry. However, since the travel restrictions imposed by COVID 19 have paralyzed tourism around the world for an indefinite period of time and DHL Express Cambodia offers a secure job, he is very happy about his part-time job. The DHL management also offers the interns and student employees the opportunity to look into other areas of the company and – if both sides want to – to stay with the company for the long term. The further education and training opportunities within the company are excellent. The majority of department heads started out as delivery staff or temporary helpers themselves and, thanks to the company's internal talent and training system, have worked their way up to management. Boutros also knows that he could potentially go down this path. However, neither we nor DHL are putting him under pressure in this respect. In the current situation, it is a great comfort to him and us that he has such a good employer.
Boutros recently learned personally that DHL Express Cambodia is a company that is also there for its employees in times of crisis. During a severe storm at the end of April, the roof of his family's house had been damaged. In addition, the back wall was so destabilized that the family was afraid to spend the following night in the house. Boutros had written to us and his sponsor kindly transferred the money necessary for the repair immediately. However, the incident also showed us how much the family's situation had worsened in recent years. The reason for this is that Boutros' father died a long time ago and his mother takes care of two grandchildren on her own. The house they live in is old and it is not clear whether it could be renovated. Otherwise a new house will have to be built. But the family can definitely not afford that.
The DHL Express Cambodia Team had also taken note of the emergency. Boutros had told his superior about the situation, as he had to ask him for leave. A short time later DHL had contacted us and asked us for our assessment of the situation. We told them that thanks to the generous donation of his godfather (who also is an ex DHL employee), we had already been able to cover the repair costs. However, the condition of the house would be so bad overall that we were worried about the mother and her grandchildren, especially in view of the tense economic situation.
His colleagues then sat down and discussed how they could help the family. They spent a week collecting money and donations and on a public holiday they went early in the morning with Boutros to surprise his mother as well as his niece and his nephew. They handed over a total of US$781, rice, clothing and a range of school supplies for the children.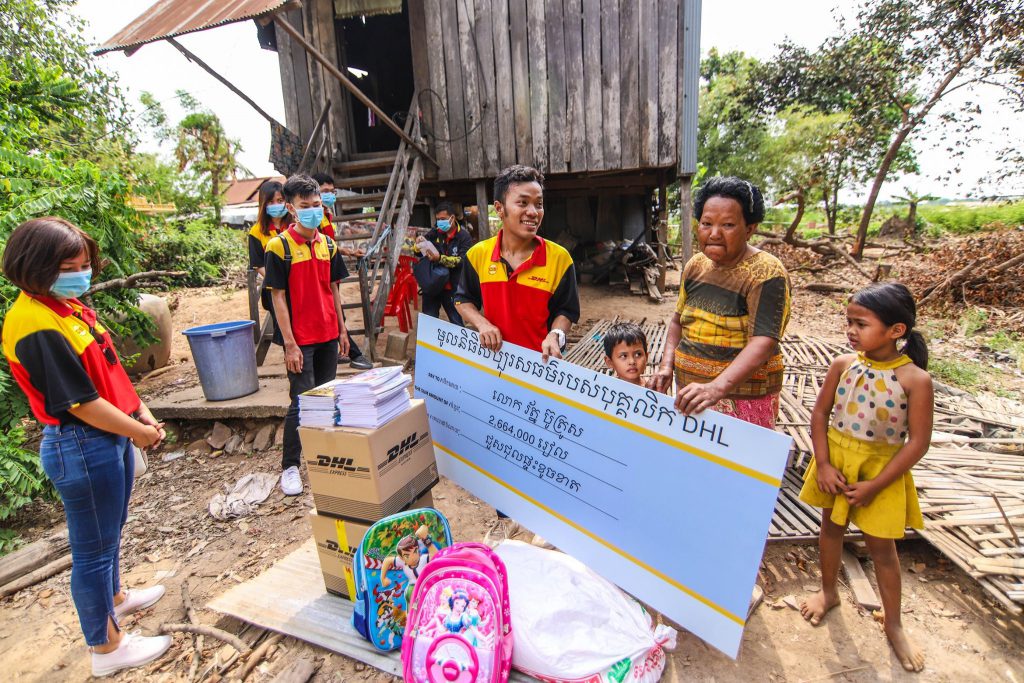 We found this action so great that we wanted to say thank you to the whole team of DHL Express Cambodia in this article. We are very happy to have committed partners who stand firmly behind us and the people we work with even in times of crisis.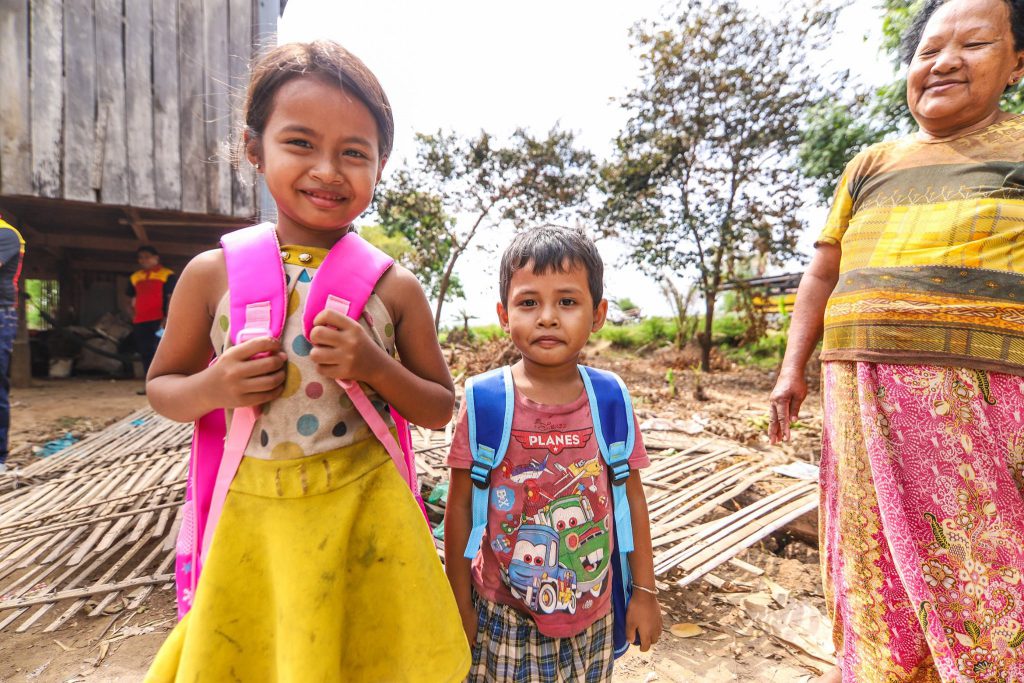 We are looking forward to further cooperation and future joint actions!
Many thanks from the whole Kidshelp team!