Reasons:
As a charity organization and an international NGO Kidshelp Kambodscha e.V. is dedicated first of all to helping people finding a way out of poverty by improved education. On the other hand we have to acknowledge that Cambodia is a country of agriculture and in the future most people in Cambodia will still depend on farming and breeding livestock.
For this reason we started our farming project to help the farmers to become less dependent on their rice farming with their own livestock.
In our first experiments with chicken and pigs we had some problems with high costs for special food and the competition from Vietnamese farming companies. Therefore we decided to work only with cows as these require very little spending and can generate a constant profit by regular breeding.
Application: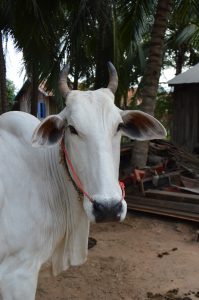 Of course our project should be sustainable to create an additional income for the rice farmers. On the other hand we expect the participants to contribute their part to spread the project.
In the project we buy a cow for a family in need that is able to take care of the animal. This family commits themself to keeping the cow and taking care of it. The first calf will go to Kidshelp Kambodscha e.V., all further descendants will belong to the family. Kidshelp Kambodscha e.V. will continue the project with the first calf in another family.
A calf costs between 600 and 1000 US$ and a fully grown cow can breed around one calf every two years for around 10 years even though it takes at least 1,5 years until the first calf can be expected.
As these figures show, a cow can bring a nice additional income. Especially when we keep in mind that normal salaries in Cambodia usually are not much higher than 100,- US$ per month.
Current situation and the next steps:

Generally speaking the farming project is not the main focus of our work in the countrysi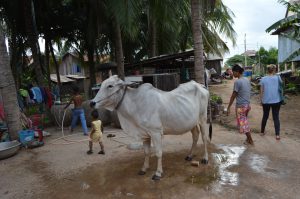 de of Cambodia.
Of course our employees in Cambodia follow all developments regularlyand make reports about the cows. Once we can see if it is possible to run the project the way we are planning it we will decide how we will continue with it and if it makes sense to expand it.At the moment we have four families in the project. These families received the cows recently and until now there has not been any offspring in the four families but we are expecting the birth of the first calf very soon.