Dear friends and supporters,
Half of the year has already passed and schools have been closed for more than three months now.
It is not easy to draw a holistic picture of the current learning situation because, as in many countries, there is no single picture. Universities and many of the expensive private schools have successfully switched to online teaching because almost without exception, their target group has access to smartphones and laptops, it is no problem to stick to the normal curriculum and teach via livestream. This means that a very small part of the wealthy students and pupils from the urban centres can continue to learn, while large parts of the rural youth and the low-income urban population struggle with considerable difficulties.
This is not only due to the lack of devices that allow access to digital content, but also to the cost and availability of internet and television. To receive state educational television, a cable connection or satellite dish is required. Both are associated with acquisition costs or monthly fees. In order to participate in live lessons via the internet, students need not only to own a device that enables them to participate, they also need access to a stable and fast internet connection. The latter is oftentimes not available in the countryside.
Alternatively, students can learn via an app using pre-recorded videos. This seems to work well and it shows that the government is making efforts to make education accessible through different channels and media. However, being able to access the app also requires a smartphone and an internet connection. Both cost money. Even assuming that several children share one phone throughout the day, there will be bottlenecks in a large family with only one smartphone when it comes to access to the app by individual children. Because the government knows this too, it has proposed that children who do not have access to state educational television, should watch it with the children of their neighbours. They were advised to only meet in small groups and to keep their distance.
In addition, teachers have now been encouraged to teach small groups in their villages. They do this partly in their own house and partly under the stilt houses of other pupils. They are instructed to keep the groups small and to adhere to basic rules for hygiene and distance. Teachers are mostly doing their best, travelling a lot to reach at least parts of the student body. Pupils who live far away from the school are however difficult to reach. Furthermore, the younger classes are usually large, so, if teachers are only allowed to teach small groups, this inevitably means that their time commitment is much higher. The speed at which they can go through the contents of the school year is correspondingly much slower.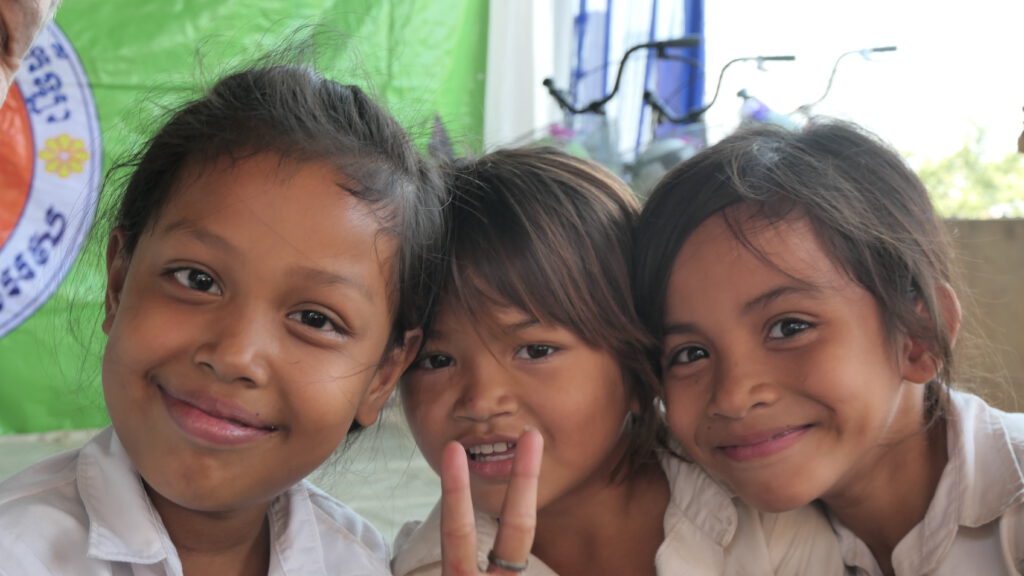 Although there are no official statistics yet, it is highly probable that many pupils have been learning at a much slower pace since March and are not able to prepare properly for the final exams. The question now is whether and how the transition to the next school year can be made. In this respect, two aspects are particularly relevant: the health of teachers, pupils and their families and the level of knowledge of the pupils. The latter determines whether the current school year needs to be repeated.
If the government decides that the cancellation of classes makes it necessary to repeat the current school year, this could increase the number of children who will drop-out of school. Some teenage students have discussed this openly with us. Many of them are currently working in simple jobs to relieve their financially stricken families. The longer the schools remain closed, the more likely they are to drop out of school in favour of these jobs. With regard to the possibility of repeating the school year, a tenth grader told us in an interview that she doesn't like school very much, but she would like to finish high school, if she can continue with eleventh grade starting in the new academic year. She added that she would definitely drop out and continue working in the beauty salon where she currently has a job, if she has to repeat tenth grade. We are therefore concerned when there is discussion in the media of the possibility of requiring students to repeat the school year. The sheer length of the school closures will most likely also have an impact on the number of school drop-outs. Feedback from discussions with students makes this clear.
However, we also understand that the health aspect must not be neglected. Although there are few  COVID 19 cases in the country, the capacity of the health system is only sufficient to treat a low number of critical cases. Continued and utmost caution is therefore required. Many schools in the country have no toilets at all or only latrines without running tap water or sufficient soap. Their cleaning is usually the responsibility of teachers and students. Traditionally these rooms are only dry swept. Cleaning by qualified personnel with water and soap is not done at all or happens periodically. Furthermore, the learning groups are very large with 30 to 45 children per class. There is simply not enough space to keep a distance.
The government therefore seems to have started to classify the schools into different categories. These seem to take hygiene standards into account and the idea was expressed to open schools with the highest standards earlier. This all makes sense but would again give an advantage to wealthy students from the cities. The schools in question are likely to be expensive private schools that rely on the school fees. Enabling them to reopen would also secure the livelihoods of the teachers and staff employed there. The decisions to be taken in this context are complicated and complex. We hope that the Ministry of Education will find ways to enable as many students as possible to return safely to school and we will of course implement these in our own school in the best possible way.
Thanks to the support of the sponsors of the English school, we can continue to pay our teachers 45% of their salaries. The cleaning lady also receives a monthly aid payment. Many thanks to all supporters. Since we are paying this emergency aid, we have asked the teachers to join us in thinking about how we can continue to teach the children during the closures. We came up with a system which allows the students to pick up worksheets from the school once a week. When picking up the new worksheets, they simultaneously submit their assignments from the previous week, which are then corrected and commented on by the teachers. Because we are aware that not all students can or want to pick up these worksheets and because such exercises cannot replace the daily lessons, we have decided not to teach any new material until the school reopens. The worksheets are mainly about repeating important lessons and dealing with learning contents with which the children often have difficulties.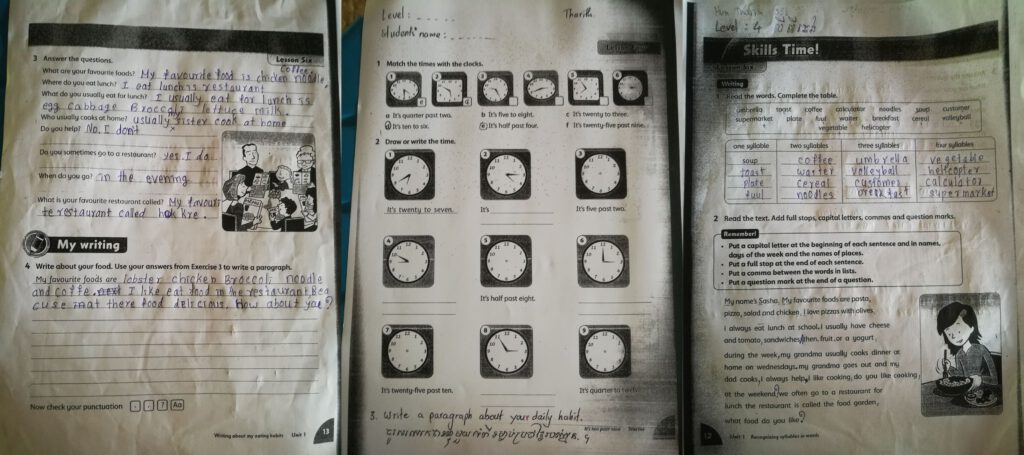 Because of the issues outlined above, it is difficult to say if and how many teenagers will drop out of school early because of the effects of COVID 19. What we do know for sure is that every dollar is needed by the families because of the financial crisis. We have therefore decided two things: Firstly, we want to continue to pay out the monthly cash stipends to all sponsored children unconditionally for the entire duration of the school closures. This means that at the moment the usual checks of whether the children are going to school cannot be performed as the schools are closed. It is also impossible to say who will actually come back to school and who will drop out. Hence, we think it makes sense to continue to support everyone for the duration of the closures and to then monitor closely who comes back to school and who does not. Secondly, we decided that we want to focus on finding new sponsors for children in primary school. For them, the chance that they will drop out of school early due to current situation is small – even if the closures last a year or the current school year is repeated.
Support through the direct transfer of cash to families is often the best way to help in an economically catastrophic situation. The families themselves usually know best how to use the money most effectively. Giving them in-kind donations instead of money is disempowering and often ignores their real needs. Even school supplies or clothing would probably be sold if the family needs money for food or health needs. This is shown by a large number of studies on the use of such relief supplies.
If you want to support poor families in the villages around our school as efficiently as possible in this emergency situation, you can take over the sponsorship of a school child. We understand that many people in Germany and Europe are currently experiencing financial problems. If you cannot afford it yourself, you can still support us by advertising our work or try to convince friends or your employer to take over sponsorships.
In Cambodia there is no general health insurance and hardly any social assistance for the mostly informally employed population. With a sponsorship you can make an important contribution to give the people here a fair chance to survive the crisis without exposing themselves to considerable health risks and having to take their children out of school early.
Many thanks from the whole Kidshelp team!