Dear supporters of Kidshelp Kambodscha e.V.,
The so-called "February-20th-incident" has now had a tight grip on Cambodia for more than two and a half months. In the last blog post (11.03.2021) we reported on the start of the incident. Looking at the coronavirus infection figures for the first pandemic year, Cambodia had come through the crisis smoothly and largely unscathed. But following the "incident" there was for the first time, a relatively large spread of coronavirus in this country, which, was and is considerable for Cambodia.
The total of only 500 positive corona cases in the first pandemic year (!) doubled within a few days, first tens of new infections were added daily, then hundreds; meanwhile almost 23,000 positive cases have been registered, 22,000 of which are attributed to the February 20th incident. From 0 deaths in the first year of the pandemic, more than 150 deaths have now been recorded within a short period of time.
Even if these numbers seem comparatively low, the fear was and is enormous and, looking at the health system within the country, quite justified. The Cambodian government and the local authorities reacted with measures that would be familiar in Europe: lockdowns, travel restrictions and bans between regions, night curfews, closures of schools, universities, markets, shops, hotels and restaurants, factories, compulsory wearing of masks on the street and on mopeds, and a general ban on alcohol sales.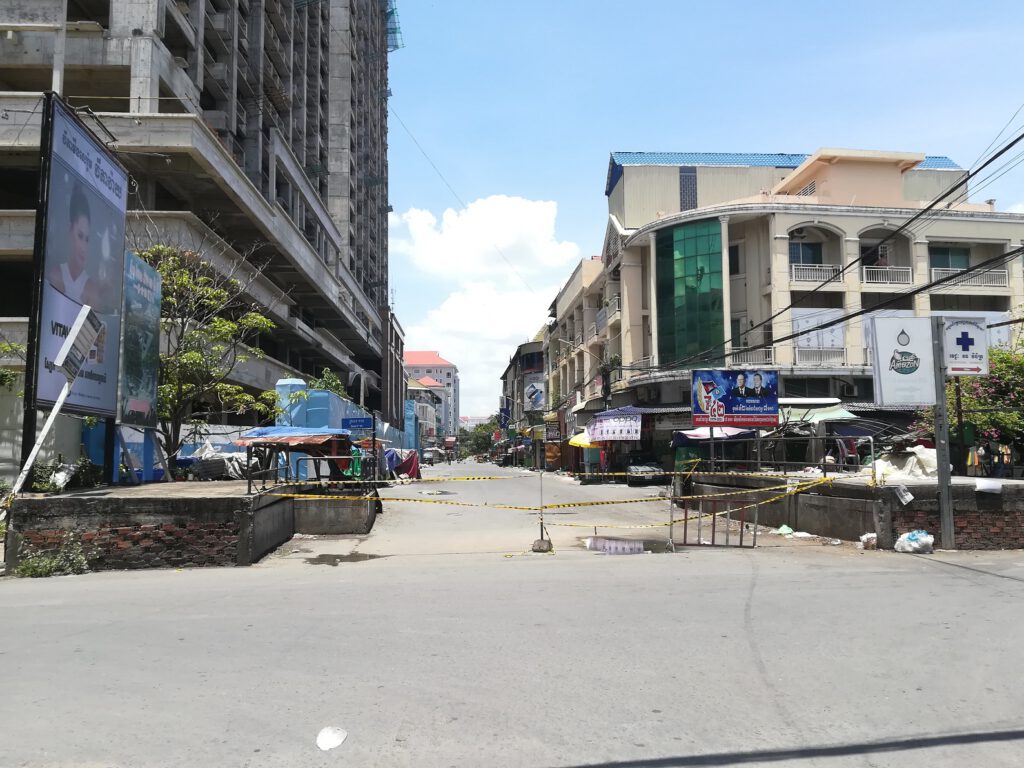 The Sihanoukville region was sealed off for more than two months. Phnom Penh was in a complete lockdown for three weeks with night-time curfews and all districts sealed off from each other with roadblocks and by police/military; some areas in the city with high infection rates were marked as "red zones" – in these, people were/are not allowed to leave their houses under any circumstances (except for medical emergencies), the supply of basic food was/is organised by the military and police. For a short time, the police were permitted to use the rod as a disciplinary measure if people broke the rules in red zones, but this was eventually revoked by the responsible ministry. Textile factories and large markets turned out to be particularly vulnerable to the spread of the corona virus, after the initial spread being mainly within casinos and nightclubs. The Khmer New Year, which was cancelled last year, was not cancelled this year. However, the festival, which is associated with high domestic travel and family reunions, was effectively deprived of its foundation with the swiftly introduced travel restriction, the lockdown of Phnom Penh, Takhmao and Sihanoukville, the closure of tourism resorts and a nationwide ban on alcohol sales. And yet, the virus has now made it to every province in the country.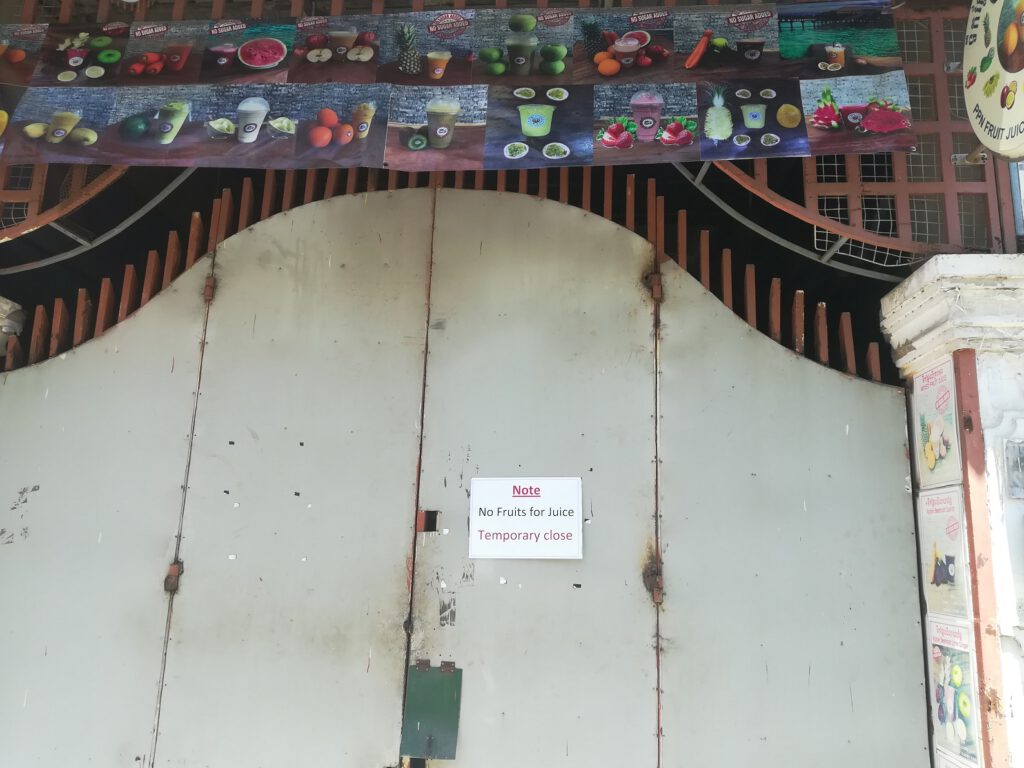 After steadily rising, the numbers are now dropping, example, in first 5 days of May average new infections were 714 per day and in 5 days to 18th May, new infections were 350 per day. Many of the restrictions have now been partially lifted, but night-time curfews, alcohol sales bans, small-scale red zones and regional restrictions, closed pubs and restaurants (except for take-away and delivery services) remain in place. Vaccinations are underway with the target of all adult residents of Phnom Penh and the neighbouring province of Kandal being fully vaccinated by end of June. 2,000,000 vaccinations have already been administered and a further 500,000 vaccine doses were received from China on Sunday 16th May. Several our teachers and university students have already received one or both vaccinations.
Describing the current mood in Cambodia is a difficult and, of course, very personal undertaking. In any case, the impression here was one of fear and panic; the media reports overflowed for about 10 weeks with several articles every hour, every single death, every breach of rules with arrest, every critical voice was worth a new report; the communication of political measures often functioned via nightly Facebook postings and voice messages and subsequent immediate validity – which is why it seemed impossible to not constantly keep track of the news.
What does this mean for Kidshelp Cambodia?
As was also the case last year, Kidshelp's work has been restricted during this acute pandemic period. Our English school is closed again and continues to be closed and the students study exclusively online, which results in a clear loss of quality, many report that they receive and work on assignments but do not have the opportunity to ask questions or their questions are lost. The district in Phnom Penh where our student residences are located was for some time designated as a red zone. We were at least able to pay certain university/course fees by bank transfer but experienced some difficulty because some banks were not operating normally. Thanks to your support, we were able to continue paying emergency aid for our teachers, many of whom are currently suffering from a loss of income. The disbursement of the sponsorship money is difficult and depends on whether the Village Chief allows it; we are confident that a disbursement can take place in May, however, should it not be possible, we will ensure that disbursements are caught up as soon as possible. Many families have had economic setback; until the end of February most things were in full operation (with the major exception of tourism), but in the last 2-3 months there has been a complete loss of income in many areas. The closed schools are, if not a disaster, then at least a huge challenge for the future for many children, especially from the socio-economically poor families. Online learning tools are to be increasingly introduced, but as so often, this can only be a partial answer, especially if the support conditions are not in place, example, a suitable place to study).
For organisations like Kidshelp, a crisis like this has many implications. The work, even if it is currently limited, remains of immense importance. A small NGO sees this especially in the fact that virtually all the people supported are known personally and it is therefore possible to have direct contact and a close look at the individual circumstances and challenges. It is to be hoped that the measures taken, linked with the high rate of vaccination roll out, will have the desired positive results and that the actual work in direct contact with the sponsored children, the students and their families can soon take place again.
Finally, some personal information. I, Florian, hereby say goodbye to you as Country Director of Kidshelp Cambodia. I would have loved to say goodbye to you next year or the year after, or at least much later. Unfortunately, during the pandemic, everything turned out different from what I had planned, wished, thought, and hoped. Now, after just five months, I have unfortunately, due to health reasons to say goodbye to Cambodia and Kidshelp.
Our long-time and competent local staff members, Khath Khemara and Hun Tharith, will for the time being take over most of the tasks of the country office – until Kidshelp are able to appoint a new Country Director. In all this great disappointment, this does create a great opportunity for Khemara and Tharith and we are happy about and thank them for their quick commitment to take on new tasks and responsibilities. With respect to the new school, plans are in place to ensure the work to review tenders received are evaluated and recommendations made.
With best regards,
Your Kidshelp Cambodia Team