Jum Reap Lea Kidshelp. Jub Nea Pell Kroi Kampuchea. With the end of this month also my time at the Khemara Kidshelp School in beautiful Cambodia ends. 6 months of teaching and learning full of joy and pleasure. I am happy to spent so much time at this wonderful place.
The daily work mainly took place in the class rooms. I had the chance to teach different classes with different ages and language level. Especially I enjoyed working with my "Upper-Intermediate"-class in the evening. Not only the size of the class (only five students) gave me a lot of scope but also their English level was the main course why our conversation approached deeper spheres. But we always laughed a lot. After they finished the final exam at our school and also at their high school all five (see class-photo, f.l.t.r.: Boutros, Chakriya, Rachana, Srey Sor & Srey Mom) can now realize their dream of studying in Phnom Penh. All of them already moved in the city and some even started at university. I am very happy to still stay in contact with them and hope this will continue, because they are already locked in my heart.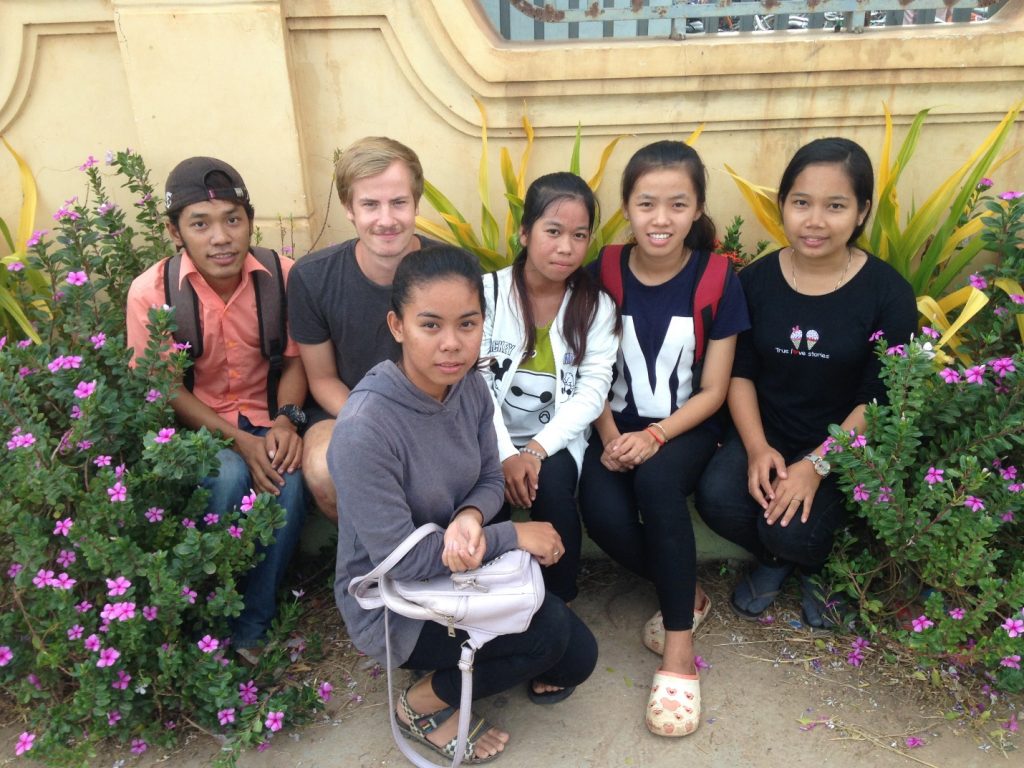 Another important part of my daily routine were the guitar lessons. Immediately I had a lot of students that joined the course and continued for a longer time. Especially after every student had its own guitar, there was a lot of progress. Thanks again to all the supporters of my little fundraising campaign "Guitars for Cambodia". You made this possible. Despite a little bit of music theory, chords- and rhythm practice we always focused on fun while playing modern pop songs, rock classics or Khmer tunes.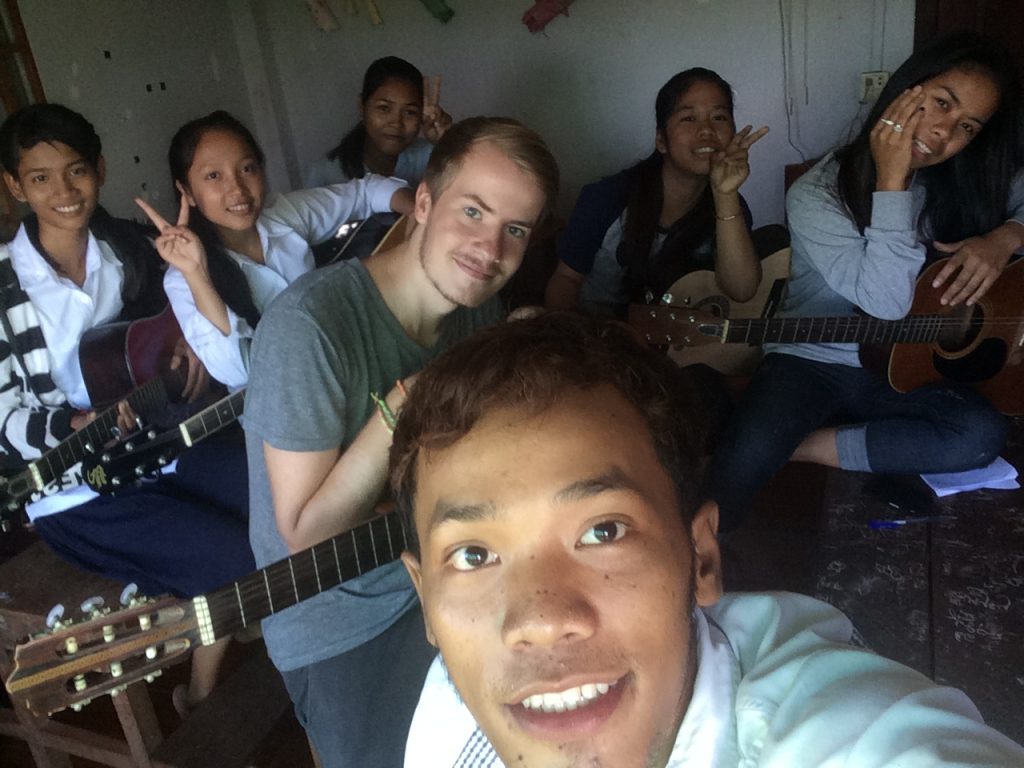 These daily sessions also were the begin of another very important date for me: The Khmer lessons. After some of the students realized that I want to improve my Khmer they started to help me out. Every Friday we changed perspectives. While I enjoyed sitting at the school desk, the students had a lot of fun to extend my vocabulary or practice my (miserable) pronunciation. I really appreciate their effort. This new gained language knowledge was then tested in the everyday life. Although it wasn't always successful it helped me a lot. Whether while bargaining with the moto-drivers, shopping at the local market or getting a new haircut at the barber shop. Every Khmer word brought me closer to the locals and also helped me to save a few thousand Riel.
Life here was never boring. Also besides the regular work I always had exciting projects. Workshops with the students in Phnom Penh, a theater play at the school, Olympic Games project days, a successful eye care action for the locals, field trips to Buddhist pagoda, a movie night or general knowledge lessons.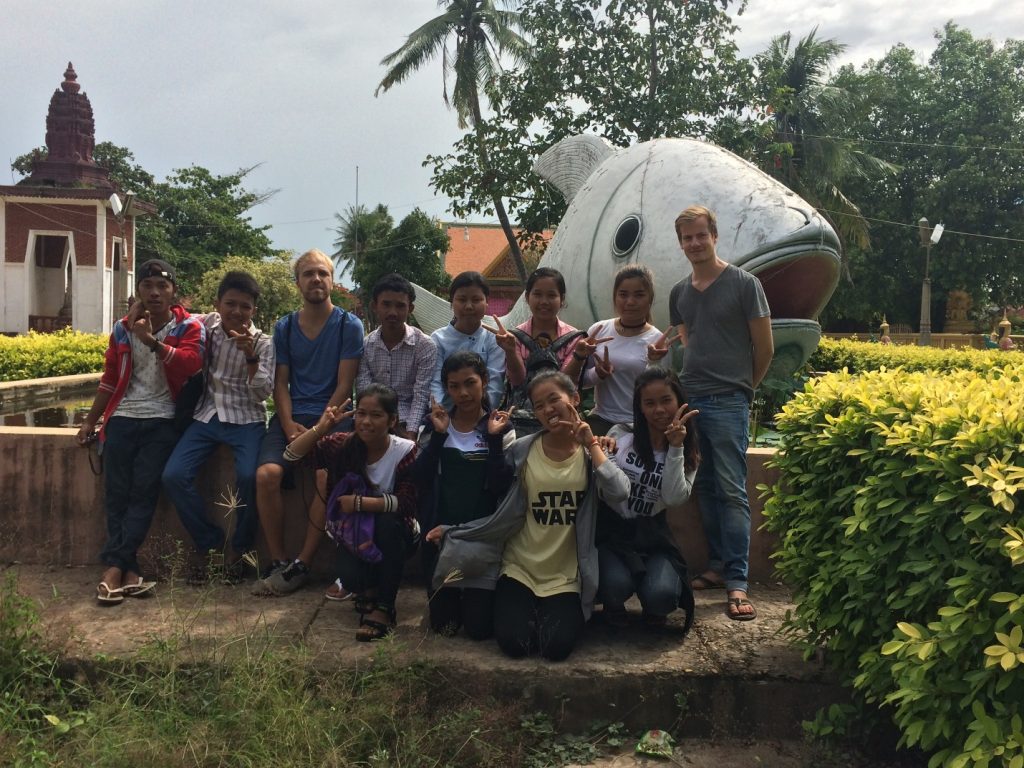 But my time here is not only measured by the project, it's rather about the people. For sure, the students played an important role. Since I arrived at the school I was surprised and amazed how much candidness and joy the students showed. Although it's not always easy, you can't stop love them. Also the personnel surrounding of the school and the organization was always very pleasant. All the teachers were open for ideas and projects and always had pieces of advice for me. Also Kidshelp was always there – here in Cambodia and also from Germany. And despite a fixed workplace I am so thankful for the freedom and the faith everyone showed. That was one of the elements I loved the most about my work.
Furthermore, I not only had the chance to work with three very different volunteers at the school but also met a lot of other volunteers from different organizations. Almost every weekend we met in Phnom Penh to swap experiences and find a counterpart to the calm life in the countryside.
Even though I leave the school now I won't leave South East Asia. Fortunately! First I will spend some time in Vietnam and Laos before coming back to beautiful Cambodia to look for another job and stay in contact with all the amazing people I met here. I am so happy for all the experiences and all the fun I had.
Thanks to everybody! Yours Matthias.