Usually our volunteers stay for half a year. For various reasons we believe that any commitment should be at least for three months.
Other requirements
You should:
be at least 18 years old
have good English skills
enjoy working with children and young people
be social, flexible and creative
be interested in a different culture
stay at least for 3 months, ideally for 6 months
be open for Cambodian cuisine
Your tasks
The main task of our volunteers is teaching English. Our main focus at the moment is on the children classes. The children should learn the essentials of the English language in an active and playful manner. You will get a profound introduction before you start to make the start as easy as possible for you.
Apart from that, we also organize leisure time activities for the children. For example last year we organized a project week and guitar classes. Of course all kinds of trips are also always very welcome.
We are trying to give our children a holistic support and we are happy to see when volunteers support us with their gifts and interests. We would like to offer more different workshops in the future.
Accomodation
You will stay directly at the school together with the family of our principal Khemara, where we have two rooms and a small bathroom for our volunteers.
Meals
During the week you will get three meals a day at the school.
As not everyone enjoys rice for breakfast, there is also a fridge where you can store your own food.
Costs
You will have almost no costs during your stay at the school. We provide the accomodation and all our volunteers can eat at the school for free.
Usually our volunteers go to Phnom Penh for the weekend, where they have to arrange their own meals and accomodation. Therefore you should count in some money for food and accomodation.
Visa
All volunteers who stay for 6 months will get a free NGO Visa. All others can easily get one at the airport.
Type: Regular Visa (formerly "Business Visa")
Requirements: A passport that is valid for at least 6 months more; 1 passport photo; one valid credit card.
Duration of stay: At first 6 months, can be extended indefinitely.
Extension in Cambodia: Directly at the immigration office or via agents such as: LuckLucky Motorcycles Shop.
Costs: 1 month (about 30USD), 3 months (single entry, about 80 USD), 6 months (multiple entries, about 150 USD), 12 months (multiple entries, about 280 USD).
Please note that the fees for the visa can sometimes change on short notice.
The information above applies for German nationals and most EU citizens. Please refer to a Cambodian embassy in your country for information about other nationalities.
APPLICATION
You can send it all to the following e-mail address:
michael@kidshelp-kambodscha.org
We need the following documents from you:
CV
Letter of Motivation
Certificate of Conduct
Please write us also when exactly you would like to volunteer at Kidshelp Kambodscha e.V.
Reports from former volunteers
Sabine Schulz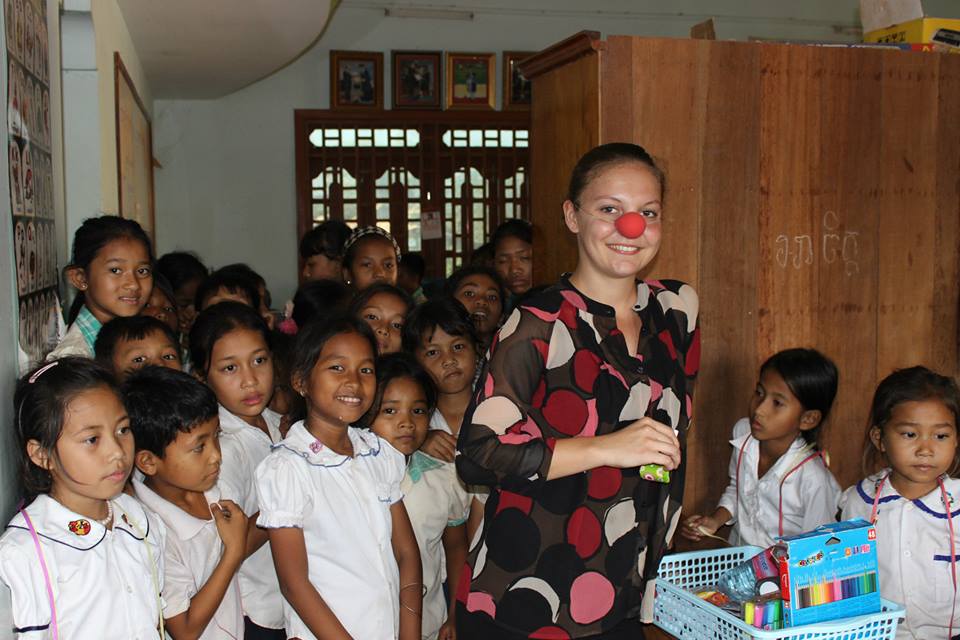 Even after one year I think a lot of Cambodia. When I write with my students or look at my pictures or other souvenirs or sometimes even just out of the blue: "Oh, how I would love to have 36° degrees, fright rice or a TukTuk!" A lot of things have changed since I was in Cambodia. They tell me that the volunteers have changed many things. What did we change exactly? Corvin (editor's note: another volunteer at Kidshelp Kambodscha during that time) and I started the teacher´s trainings. In these weekly meetings we tried not only to improve the teacher´s English, but also to introduce new teaching methods and to use the materials that are necessary for that.
To mention one example: we also played one round of UNO with the teachers once because otherwise they would not have known what to do with their present from Germany let alone explaining it to the children. Now Pichhara (editor´s note: the daughter of Khemara our school´s principal) plays a lot of UNO with the volunteers and the other children.
It also makes me very happy to hear that they still sing my songs. We used to sing a lot with the students to teach them new words. We also played and made some handicraft with them, because we believe that children should have good memories when they think back to their school time. Something else that made learning at the school more fun war our new school painting and it makes me very proud to hear that the volunteers after us continued the painting and made the school even nicer.
Even our trip to Angkor Wat still bears fruits. My students keep telling me about it and one of the teachers even wrote that she has better motivations now because she is so grateful. I am looking forward to seeing all the progress live when I go to Cambodia for holidays once instead of just seeing photos and videos.
Sabine (volunteer from January to July 2014)
Franziska Zimmer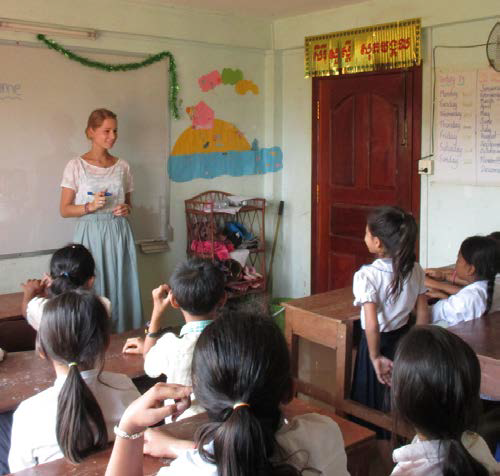 I stayed at "Khemara Kidshelp School" as a volunteer for half a year around 2015/2015 and I had a great time. The family where I stayed welcomed me with open arms and the students with their natural and hospitable manners made sure that I had a unforgettable experience in Cambodia.
Many things changed during my time at the school in Prek Dambang. I opened to open a library for example. There had already been a shelf full of books before we started this project, but when we put them in order, we realized that most of them were too difficult for our students. Therefore we bought a lot of new books to have suitable ones for each English level. Now the students have the chance to borrow books and read them for themselves.
I also started reading a book with my class. I could not believe it, when my students told me that it was the first (!) time for them to read a book (apart from school books). It was great to see how much fun they had and how they empathized with the protagonist. We also bought some dictionaries so they students learn to deal independently with new vocabulary instead of asking the teacher every time they do not understand something.
At the end of my mission, we started with the so-called "peer teaching". Each teacher had to hold one lesson in front of the other teacher as they would do it in front of their students. After that each participant gave a short feedback about the teaching. It helped the teachers to support each other, exchange ideas and try different teaching techniques.
Even during the short period of time that I spent at the school, I saw many changes happening at the school and it was a great feeling to be able to take part in some positive developments. I have fond memories of this time that was also a personal enrichment for me.  Thanks to Facebook I am still in contact with my host family and the older students because I really grew fond of these people
Franzi (volunteer from December 2014 to April 2015)