Sponsorships for school students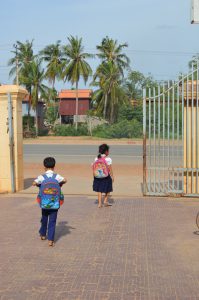 With our personal sponsorship for school children you can allow one child in Cambodia to go to school regularly.
If you are interested in supporting one child in Cambodia directly, you can do it for 17,-€ per month. The child will be supported directly with 12,- US$ monthly. The remaining amount is used to cover the cost for implementing the sponsorship programme on the ground. Before the sponsorship starts, our employees in Cambodia will write a detailed report about the child. The report can be updated every time you would like to know about the latest developments in the child's family or how he or she is doing in school.
As we are trying to keep our administrative expenses as low as possible we always adjust our workload to the needs of the children and the individual wishes of our sponsors. This concerns not only the reports, but also the written correspondence between the children and the sponsors. This means that it is up to you if you wish to have regular written correspondence with your child
Due to the fast that the Cambodian post is not always 100% reliable, we try to do most of the correspondence via visitors who travel to Cambodia. Usually all letters will be answered, but we hope you will be indulgent if it takes a bit longer.
You will find some further information about our sponsorship programme here.
Sponsorships for university students
If you are interested in supporting a young and talented Cambodian further, you can do it with our sponsorships for university students.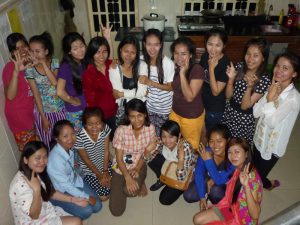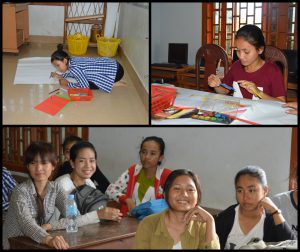 If our students want to study at university, they have to go to Phnom Penh, where they have the chance to live and study with other students at one of our students dorms. Apart from the living costs, they also have to pay fees at university. The costs for one students in one our students dorms is about 35,- € per month. The fees at university are quite similar for most careers, but dependent on the study course and can also be much higher sometimes.
You will find more information about our students program if you click here.
Supporting Membership
If you want to support our work financially, you can do it in form of a one-time donation or by our supporting membership.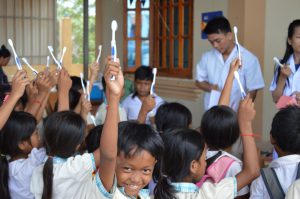 Even though we try our best to keep our costs as low as possible and a lot of our work is done by volunteers, our projects would not be possible without the financial support of our members.
Our sponsorships normally just cover the costs that are needed for the direct support of the children and young people. Apart from that we also have a couple of running costs like salaries etc. and also costs for extra help that is needed in special cases like urgent assistance in case of crop failure. To ensure the continued existence of our projects and allow us the planning of new ones, it is crucial for us to have a constant source of income.
We count on your help. Even with a small amount you can help us out and ensure the future of our projects.
Scholarship for the English school
Our scholarship programme allows you to give a child the chance to study English at Khemara Kidshelp School (KKS).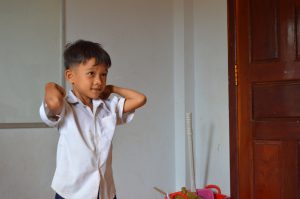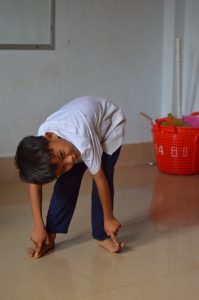 Cambodian or Khmer is a very small language and therefore most of the education at Cambodian Universities is in English. Also in many jobs English is increasingly important for everyone who wants to advance professionally. Many poor students from the countryside are disadvantaged compared to their urban counterparts as education in the countryside is generally not as good as in the cities and most of them cannot afford any extra classes.
With our scholarships you can allow one child to study English and improve their chances for the future significantly for 4,- € per month.
You will find more information about the scholarships at the English school if you click here.