There are several ways to support our work in Cambodia. On this page you will get a short overview of the different options to choose from and the costs involved. Please follow the respective links if you would like to know more about a specific project.
Membership AND ONETIME DONATIONS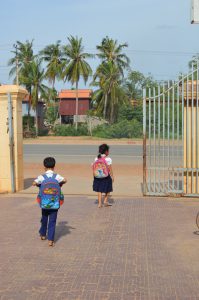 Those who would like to support our work as a whole – i.e. all our projects – can do so by making a onetime donation and/or becoming a member of our charity.
Even though we try to ensure that our expenses for administration are as low as possible – all our staff outside of Cambodia are unpaid volunteers – we do incur costs in addition to the direct project costs. For example, for our office in Cambodia, government taxes, accommodation of our volunteers and student dormitories and the salaries of the local employees. To cover these regular expenses, we depend on the regular donations from our members.
But onetime donations and membership fees enable us to do much more. Every additional cent we collect is reinvested for charity purposes only. In concrete terms, this means that we will use any surplus funds collected to initiate new projects or to provide emergency aid. Examples of emergency aid are the reimbursement of medical costs of the people we work with or the repair of a house damaged by a storm.
We encourage students who perform extraordinary well to take up additional courses e.g. to get an IELTS certification or to learn another language. If the sponsors of the respective student do not want to or cannot afford the costs for these, we pay for the courses from a student fund, which we replenish every year. The money for this also comes from membership fees and onetime donations. We also offer the teachers at the school and the local staff, the opportunity to further improve their skills. As an example, during 2018, the head of our school attended a number of IT courses and a course on "school management". It would not have been possible to cover all these expenses without the financial support of our members.
Regardless of where in the world you live, if you wish to subscribe to Kidshelp membership, please complete German membership application and make payment to Kidshelp Kambodscha e.V. in Germany.
If you would like to make a one-time donation please contact Patrick@kidshelp-kambodscha.org for UK bank details. If you are a tax payer in United Kingdom, please also complete a Charity Gift Aid form which will allow us to reclaim tax paid in the UK. If you are a tax payer in Germany or would rather pay direct to Germany follow this link.
Sponsorships for school children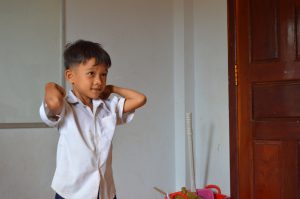 Through our student sponsorship program, you can ensure that a school child in Cambodia can attend school on a regular basis.
If you want to support a child through our sponsorship program, you can do so for € 17 per month. Of this amount, US$ 12 per month is paid directly to the child and their family. The balance will be used for costs around the care of the sponsorships and for the financing of our numerous projects on site.
Our staff will prepare a report for your child in advance. This report can be updated in subsequent years at the request of the sponsor, for example if you would like to know whether the situation of the sponsored family and your sponsored child has changed.
The preparation of such reports or the processing of letters for our sponsors families is time consuming and ensuring regular correspondence by mail is challenging. Rather than using the unreliable Cambodia Post, we usually give letters to visitors from the UK/Germany and it can therefore take some time for you to receive a written answer.
We also ask for your understanding in that children have never learned to write letters and that in times of increasing digitalization, at least in state schools, they will probably never learn to do so. The topics "How do I write a letter / How do I write an e-mail" are therefore discussed from time to time, at our English school and in the student dormitories. The letters or mails you receive from the children are therefore often the first attempts of the children to write to someone. We ask you to consider this fact when writing your own messages as well as when reading the replies. The level of communication with teenagers and students should of course improve over time as they grow in confidence.
If you would like to sponsor a child please complete a Child Sponsorship Form and if you are a UK tax payer, a Charity Gift Aid Form and contact Patrick@kidshelp-kambodscha.org for UK bank details.
You can find more information about our student sponsorships here.
SPONSORSHIPS FOR UNIVERSITY STUDENTS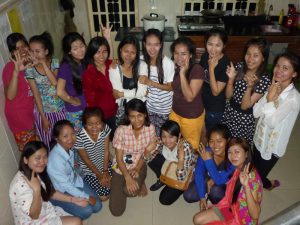 If you want to give a young adult from the villages in which we work, the opportunity to study, you can do so through one of our student sponsorships.
Our support of the scholarship holders is not limited to the payment of tuition fees. In addition, we offer regular study counselling, accommodation in one of our dormitories and payment or additional courses during their studies. We also conduct ad hoc training sessions, usually with the help of volunteers or other visitors who can contribute on topics of interest or areas that would help students in the future.
For example, one of our volunteers was able to draw on more than 10 years of professional experience in the field of sexual education. He first asked the students which topics they were particularly interested in and then held workshops with them.
The reward for the comprehensive support we provide is that the majority of the scholarship holders achieve good to very good results and are able to find well paid jobs after they finish their studies. These jobs are an important way out of poverty for families whose members would otherwise live completely off farming or working in textile factories.
The cost for a place in one of the dormitories is around € 400 per year and are recalculated annually. The tuition fees vary between € 400 and € 1,500 (medical studies), depending on the study course and university. In addition, we currently charge € 100 per scholarship holder per year for our supervision and administrative costs.
You can find out how much it costs to support an individual student in the special newsletter we publish each year in the third quarter. It includes detailed information about all candidates we have selected to include in our student sponsorship program for a specific academic year.
Further information and news about our student project can be found here, in the blog, and on our Facebook page.
THE ENGLISH SCHOOL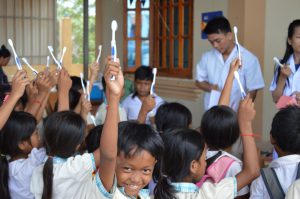 Enabling a child to study at our English School, can open up a host of new opportunities at a later point in time.
Since Khmer is a language spoken exclusively in Cambodia and thus by a very limited number of people, education in Cambodia's universities is mostly in English. In many professions, foreign language skills, especially in English or Chinese, are already very important today and are becoming increasingly significant. Poor pupils from the countryside are often at a disadvantage, as the quality of English lessons are generally poor because of the exodus of qualified teachers from the rural areas and they cannot afford expensive additional lessons at private schools.
As a sponsor of the English school, you enable poor children from rural areas to learn English for a minimum of € 4 per month and thus contribute to significantly improving their future prospects.
You can find out more on how this works on this page.
The application form to support the English School can be found here.